Professional water damage cleanup and restoration services in Beaver County
Most water damage restoration professionals focus all efforts on water extraction and, to some extent, mold removal and fixing water damage.
However, an extensive part of the process involves flood damage cleanup. Therefore, water removal doesn't guarantee that all the contaminants have been removed from the house.
That part of the job requires proper fumigation and sanitization efforts to cleanse the area of bacteria, mold, and other harmful organisms.
You will need proper disposal of the damaged drywall, flooring, carpets, and other items exposed to contaminated water or other harmful elements.
Call our team today for all your water damage cleanup and restoration requirements. Our experts have over a decade of experience and bring our equipment to properly dispose of affected items and restore your home as quickly as possible.
Take precautions and prepare for water damage cleanup
Water damage cleanup brings a lot of cleaning, disposal, and replacement hassle. In addition, it often takes a toll on your physical and emotional well-being to see everything you own ruined within the wink of an eye.
Plus, bacterial contamination and mold growth are severe concerns that must be addressed immediately.
How does mold spread?
Mold takes only about 24 hours to start growing. It's only a short time before you find mold spots on your clothes, furniture, and food.
So, anything that's left moist or unchecked during the cleanup stage can provide grounds for its growth. Mold releases its spores into the air that can quickly settle into the clothing and other items around the house and spread quickly.
Mold may be active or inactive at this stage, but both types are harmful and can cause breathing and other health concerns.
Health effects of mold
Mold can cause several health problems like sneezing, allergies, wheezing, breathing troubles, worsening asthma, hives, and itchy skin.
Why you should hire professionals for mold remediation
Mold is a grave concern, and due to its ability to spread so fast, it's essential to take timely action to control it.
Mold usually hides behind the walls and furniture. You may only be able to find it or see it after the infestation becomes widespread. It often makes conditions unliveable in the home.
Professional services bring our equipment to find mold from the farthest places around the house. In addition, our pros have advanced drying equipment and dehumidifiers that quickly dry out the house making conditions less favorable for mold to thrive.
Then our pros conduct in-depth fumigation and eradication of mold from the house.
Call our team today to learn more about our services.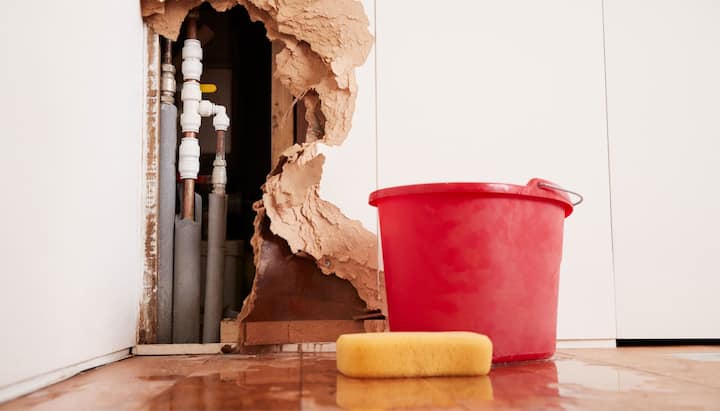 Get in Touch With Our Team
Contact us today, please give our team a call or complete our contact form! Our experts will be more than happy to discuss all of your Water Damage concerns.
Reliable basement flood cleanup: Quickly and efficiently remove unwanted water from your home!
Basements are highly prone to flooding during heavy rains and other emergencies. Because they are below ground level, water can easily pool around and seep into the basement.
Causes of basement flooding
Basement flooding may be due to
Clogged downspout and gutters
Heavy rains and floods
Burst pipelines
Faulty sump pump
A malfunctioning electronic or leaky hose
Are you struggling with basement flooding in Beaver County? Get professional help!
Water can flood the basement with a massive pipe leak or water damage. Moreover, the sump pump doesn't work to draw out the water. In that case, it will only worsen the situation and cause extensive damage to your basement and foundation.
Basement flooding requires extensive and timely action for restoration and to keep your belongings safe. Hence water must be extracted quickly and without delays. As soon as you notice any signs of flooding, call experts. Our professionals provide 24/7 service since water damage repair needs can occur at any time of the day or night.
Our experts bring our water extraction pumps, dump containers, and LGR dehumidifiers to remove all water and make the place completely dry again.
Call our team today for all emergency flooding troubles or general consultation.
Tools used for cleaning water damage
Our tools and equipment are high grades, and technologically advanced to provide quick restoration services. Here's a bit about the equipment our experts use to help restore your home promptly and efficiently.
Moisture detectors
One of the basic yet tricky tasks for water damage restoration is to remove water and moisture from the building. It's easy to find moisture where it's visible, but at times, it could be present inside the walls, flooring, or other areas you may not be able to see with your naked eye.
Moisture detectors help our contractors find moisture wherever it is, and this tool is also helpful in locating and combating mold.
Self-propelled dump containers
Following water damage restoration, our contractors need efficient cleaning equipment too. Our self-propelled dump containers help remove excess debris, unsalvageable materials, broken planks, and flooring from the site.
Air Movers
Our air movers are large industrial-grade equipment. They dry out the carpets, floors, ceilings, and walls and help minimize the chances of contamination.
LGR Dehumidifiers
Our pros use Low Grain Dehumidifiers as an industrial practice to minimize moisture and cleanse your air of humidity and contaminants.
Repair your carpet after water damage with our professional services
Although many people don't know it, flood damage can contaminate the carpet and make it dangerous to keep it in the home. In addition, DIY attempts will only work on the carpet if it's been damaged by sewage water or stays soaked for over two days.
Our experts dry out the whole carpet using air scrubbers and dehumidifiers. This is crucial to ensure it doesn't get further contaminated.
Next, our experts have our commercial-grade cleaning tools, carpet shampoo, and deodorizers to scrub and clean the carpet.
Finally, the carpet is dried again, and after a complete inspection, our staff will restore it. So, if you find yourself stuck with a wet rug, call professional water damage restoration services.
Our experts inspect the carpet and thoroughly assess the damage first before getting to the cleaning. This way, our staff can work out the right solution for your carpets.
Get fast, efficient water damage cleanup in Beaver County
Water damage restoration cannot and should not be delayed. Our experts can help you quickly return your home and belongings. Our experts perform all kinds of water damage repair and cleaning services, whether the damage is due to natural disasters or leakages in the pipes or drains.
Our team of experts is trained and experienced in dealing with water damage restoration work.
Our experts will ensure to keep our staff updated with the latest and technological developments in the arena. Our professionals also work with your insurance company to help you file claims and adequately restore your home to the pre-loss state.
Just give our team a call or fill out the 'request a quote' form on our website for more details.